I've received many queries on how I did the princess cake. So here's the details on how it's done.
For the cake, I actually bought the Wilton Wonder Mold Kit . As shown in the photo, it comes with a tall cake mold and a doll's upper body. You don't have to buy this mold in order to bake the cake. The reason I got it was because I had a coupon and got it for only $10. 🙂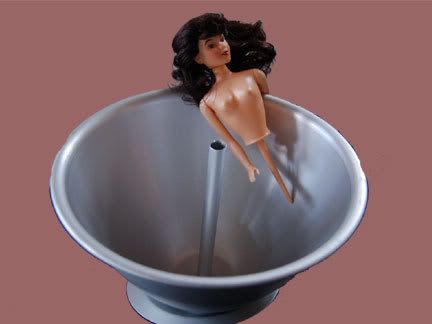 If you don't have a mold, you can just bake 2-3 round cakes, stack it up & then cut the cake to the shape of a skirt. The final cake shape should look like this.
As for the doll, just get a regular barbie doll and break off the bottom half and you can just push it into the cake top.
For the cake filling, I used this recipe from Do What I Like to make the vanilla chiffon cake and the white chocolate strawberry mousse except that I just used the mousse for the inside layers.
For the outer layer, I used buttercream since it's easier to pipe. I used the Wilton's buttercream recipe except that I didn't used all the icing sugar. I probably used about 3 cups. Then start piping whatever design you like. I used mostly the open star tip (Wilton #17) and round decorating tip (Wilton #3). There's a lot of great design ideas on the internet.

For the roses, flowers & letters, I used sugar paste. Unfortunately I don't have permission from the recipe owner to share the recipe here. Alternatively, you can also use marshmallow fondant which I will share later. I used marshmallow fondant for my Elmo cake. They work just as well. You can also use sprinkles which are just as nice.
Hope this explanation helps those who want to try to bake this cake. Have fun!! 🙂
(Visited 989 times, 2 visits today)